Rye Lane is a fresh, stylish romcom with leads that are charming and easy to empathize with, in a story that's enjoyable to watch.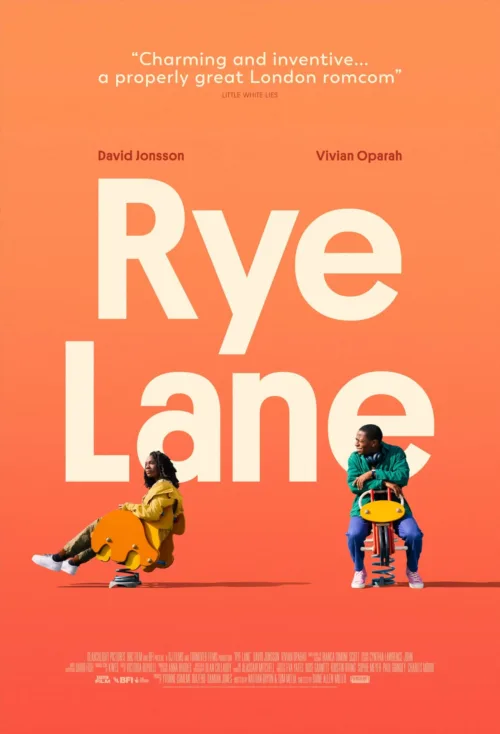 What I realized watching this film is that I don't dislike romcoms on the whole, I just very often dislike one or both of the people in the pairing. How can I root for y'all as a couple when I do not want one or either of you to win–as individuals? Sometimes, rarely, I like both people but hate how contrived the circumstances are that put them together. In Rye Lane, a girl discovers a sad boy and decides to distract herself from her own discontent by distracting him from his. It feels plausible, like a real story you've heard once, a funny anecdote about how that one couple met.
Yas (Vivian Oparah) and Dom (David Jonsson) are messy, interesting, complicated, but overall likable characters and they are immensely enjoyable to watch together. Yas is aspirational in her confidence and you know that it's cap, but you want her to believe the bravado as much as Dom does. You want her to manifest the version of herself she projects to him. And you want Dom to believe he's as interesting as the attention Yas gives him makes him feel. They're two people experiencing their city and themselves through new eyes–each others'–and just vibing.
Vibing is not always an easy thing to capture, but when it's done right, it's kind of magic. Rye Lane captures it perfectly. And the film is genuinely funny. Its humor pulls from authentic places, so while the film takes on a surreal quality in moments, it all feels grounded and relatable. The aesthetic of the film, the way the camera moves, the music… it all comes together to create something genuinely pleasurable to experience. It's just fun. I'll be keeping my eye out on director Raine Allen-Miller, who smashed it.
I am not a romcom girlie, so I don't have anything to compare it to. But I think, truly, there probably aren't many things in the genre that can compare. This is absolutely one of my favorite romcoms, and I believe it'd still be at the top even if it had more competition. It's top tier, 5 out of 5.
Tagline: Two youngsters reeling from bad breakups who connect over an eventful day in South-London.
Release: March 31, 2023 (US)
Director: Raine Allen-Miller
Writer: Nathan Bryon, Tom Melia
Platform: Hulu
Rating: ⭐️⭐️⭐️⭐️⭐️